Site Navigation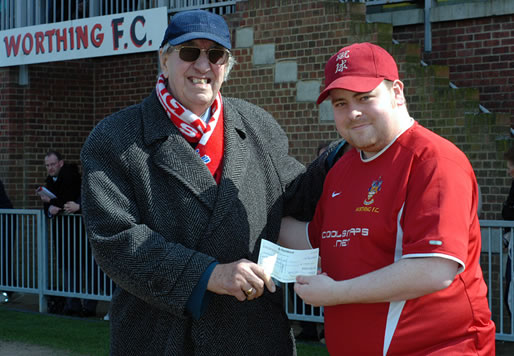 WFC Chairman Beau Reynolds accepts a cheque for £1,000 from ex-WFCSA Chairman Paul Allison.
(Thanks to Steve Wyatt from worthingfc.com for the photograph, and Ian Fowler for the shirt)
One of the stated aims of WFCSA, according to the Constitution, is:
to raise funds in order to finance or partly finance projects agreed by WFCSA with the Directors of the Football Club aimed at improving facilities for supporters in the ground and clubhouses or to provide the Football Club with items of equipment.
To this end, WFCSA has worked tirelessly to raise funds through a variety of means, including:
The stated aim of WFCSA is not to donate funds to the club purely for day-to-day running costs, but for projects that will benefit both the Club and the supporters. It was always known that the first year would not necessarily be the most profitable, due to start-up costs (buying catering equipment, for example), however we are delighted that we were able to donate the following to the Club:
Kit-sponsorship of two players @ £50 each:

Andrew Beech, seen as an unsung hero, was sponsored from the start of the season. Gavin Jones, seriously injured against Horsham, was sponsoored so as to maintain his profile whilst recovering.

Grant for £1000 towards pitch work:

Some well-publicised work has been done over the summer to the Woodside Road pitch. Whilst most of the costs are covered by various grants, the Club still has to raise a percentage. The £1,000, presented to Beau Reynolds at the peniultimate home match of 2002-2003, has gone a long way towards meeting the bill.

Over £100 for Worthing Youth registration:

As part of WFCSA's committment to Youth Football for the benefit of Worthing FC (made at the 2002 AGM), the Association paid the registration fees to the Sussex County FA.
For up-to-date information on WFCSA's finances, check the latest minutes, or call in at the WFCSA Match Day Office.
On this page: